Living Learning Communities Annual Report
Living-Learning Communities Annual Report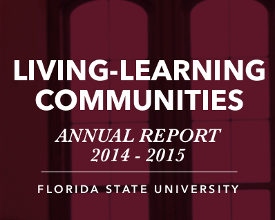 The Living-Learning Communities (LLCs) at Florida State University are a vital part of the academic engagement programs available to our first-year residential students. LLC members live in the same residence hall and participate in academic activities related to a specific theme or major as facilitated by a faculty director who often has office space available within the building. Currently, there are seven LLCs involving nearly 500 students.
Collective LLC highlights and accomplishments for the 2014-15 academic year include:
Incorporating new E-Series (IFS) courses into LLC offerings to maximize opportunities for students to meet general education requirements within their programs.
Expanding student mentorship opportunities and involvement with LeaderShape©.
Infusing additional service-learning, study abroad, tutoring, major/career exploration, and other high-impact educational practices into our LLCs.
Participating in the academic carousel at Preview with a professional display board to highlight each of our LLC programs.
Achieving an 11% increase in LLC applications over the prior year.
Holding the first planning retreat for LLC faculty to discuss opportunities and challenges and focus on short- and long-term planning initiatives.
Producing a Living-Learning Community Handbook to clarify operating procedures and guidelines for LLC faculty and residence life staff.
Assisting Florida A&M University with dialog and planning for their new LLC programs.
Producing this first installment of an annual report for all LLC programs.
Find out more by reading our complete annual report from the link below: